The Cost of Secrets
Police officer Dan Fallon knows the streets, but he's a rookie at romance, and still very much in the closet. He thinks sexy fitness instructor Isaac is way out of his league, until a dangerous situation breaks the ice between them.
Isaac Weiss has spent years trying to get his life back together after a series of terrible mistakes. The last thing he should be doing is trying to have a relationship with a cop, especially with his past. Too bad he's unable to resist sweet, shy Dan.
It's not long though, before the secrets both men are keeping rise to the surface and threaten to destroy the fragile connection they've forged with one another. Can Dan and Isaac find acceptance or will the cost of secrets be too high?
Always a Groomsman
Photographer Skyler Spencer comes to Key West for his brother's wedding expecting to take some pictures, act as best man, and maybe spend a little time getting to know his brother's fiancee and her twin sister. Then he learns that not only is the twin a man rather than a woman, but it's a man he's met before–under less than appropriate circumstances.
Casey Baker doesn't expect the guy he once had a memorable encounter in a club bathroom with to turn up as his brother-in-law to be, but he's able to deal with the surprise. Dealing with the strong attraction they feel for each other is a lot more difficult. Casey figures a short, hot fling will take care of that. Too bad he's not good at staying detached, and Skyler's not good at commitment.
When Mother Nature and the past combine to put the wedding in jeopardy, Skyler and Casey have more than just their own confused feelings to deal with. Will the weekend end with two sets of broken hearts?
Fool for Love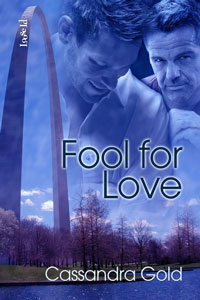 Forty-five-year-old college professor Vincent Norton expects to spend the rest of his life alone. After all, he had more than twenty years with the love of his life before losing him to an accident. Then he has a chance encounter with a young man in the hallway of his apartment building, and Vince is shocked and dismayed to find himself suddenly attracted to a man half his age.
Rob Bridges might be only 21, but he knows what he wants—and that's his sexy older neighbor. Once he realizes he wants Vince, Rob sets his mind on catching him. Too bad Vince doesn't seem to agree that age is just a number. Will Vince let himself be caught, or will his indecision ruin their chance at happiness?
Strings Attached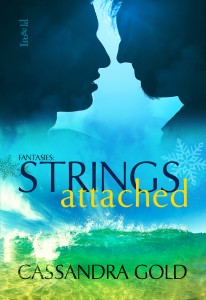 BUY LINK
James Hastings is having a bad week. All he wants to do is buy a six-pack and spend an evening moping. Instead, he wins a weeklong trip to Hawaii, thanks to a young man at the liquor store.
Tattoo and piercing artist Travis Barton is surprised when the cute guy he helped out wins a trip and invites him to come along. Still, he's not about to pass up a free trip to Hawaii.
Travis's idea of a no-strings fling goes against James's nature, but it seems like a great way to make the trip even better. Then their hot, uninhibited nights together start to blur into something more, and James starts to imagine Christmas ever after — Travis, with strings attached.
Note:This book is a revised and re-edited version of a book sold elsewhere under the title Fantasies: Christmas.