After what felt like an eternity, Strings Attached is finally here!
I have a huge soft spot for this story, The hubby and I went to Hawaii years ago and adored it, so a holiday story set in Hawaii was fun to write. My editor, Tamzin, and I really made a lot of changes to the story, but they were all for the better, IMO.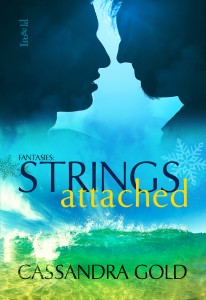 James Hastings is having a bad week. All he wants to do is buy a six-pack and spend an evening moping. Instead, he wins a weeklong trip to Hawaii, thanks to a young man at the liquor store.
Tattoo and piercing artist Travis Barton is surprised when the cute guy he helped out wins a trip and invites him to come along. Still, he's not about to pass up a free trip to Hawaii.
Travis's idea of a no-strings fling goes against James's nature, but it seems like a great way to make the trip even better. Then their hot, uninhibited nights together start to blur into something more, and James starts to imagine Christmas ever after — Travis, with strings attached.
Note:This book is a revised and re-edited version of a book sold elsewhere under the title Fantasies: Christmas.