The Carpenter and the Fairy released today from Amber Allure!
This is a reprint of a previously published book.
http://amberquill.com/AmberAllure/CarpenterFairy.html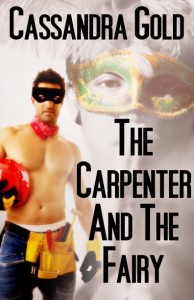 Former military man Mason Larue is into one-night-stands and big, burly guys. So while attending a crowded and noisy costume party, he is not happy to find himself unnaturally attracted to a sweet, slim young man wearing eyeliner and dressed in a fairy costume.
After a spectacular night spent with Avery, however, Mason begins to change his mind about what he wants. Can he somehow get past his fears and stereotypes in time to obtain what he never knew he desired?
In other news, I signed contracts with Loose Id for two reprints.  Fool for Love and Fantasies: Christmas will both be released by Loose Id, hopefully later this year.  Both of these books will be expanded and changed quite a bit from their original forms.