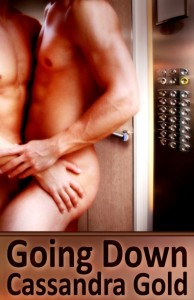 Going Down
Tattoo artist Laurie Watson has felt the distance between himself and his live-in boyfriend, Win, for a long time, but he's finally had enough. He's determined to figure out how to work out whatever's gone wrong between them. Unfortunately, when he gets home, he finds Win talking with his ex.
Figuring he's missed his chance to fix things between them, Laurie flees. The temperamental elevator has other ideas, however, and Laurie and Win are trapped between floors.
No longer able to hide from their problems, Laurie and Win will either make up, or break up for good…
Now available from Amber Allure!  Buy it HERE.