The website is still under construction, but I have some news to share that couldn't wait!  On January 8, my novella The Cost of Secrets will be released by Loose Id.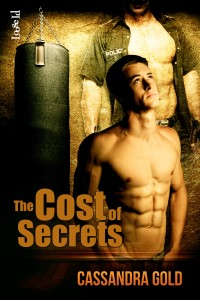 ISBN: 978-1-62300-162-9
Police officer Dan Fallon knows the streets, but he's a rookie at romance, and still very much in the closet. He thinks sexy fitness instructor Isaac is way out of his league, until a dangerous situation breaks the ice between them.
Isaac Weiss has spent years trying to get his life back together after a series of terrible mistakes. The last thing he should be doing is trying to have a relationship with a cop, especially with his past. Too bad he's unable to resist sweet, shy Dan.
It's not long though, before the secrets both men are keeping rise to the surface and threaten to destroy the fragile connection they've forged with one another. Can Dan and Isaac find acceptance or will the cost of secrets be too high?