Welcome to the website of author Cassandra Gold.
BIO
By day, I am a middle school teacher. I spend much of my time grading papers, filling out paperwork, and trying to get 6th- and 7th- graders to read. When I am not at work, I can generally be found at the computer, dreaming up stories about men falling in love. When I have spare time (which is unfortunately not too often anymore!) I read romance of all kinds. Occasionally I pretend to do housework, but my hubby isn't fooled!
Current Release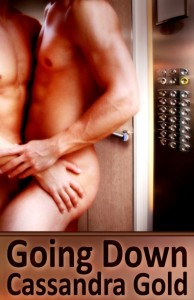 Tattoo artist Laurie Watson has felt the distance between himself and his live-in boyfriend, Win, for a long time, but he's finally had enough. He's determined to figure out how to work out whatever's gone wrong between them. Unfortunately, when he gets home, he finds Win talking with his ex.
Figuring he's missed his chance to fix things between them, Laurie flees. The temperamental elevator has other ideas, however, and Laurie and Win are trapped between floors.
No longer able to hide from their problems, Laurie and Win will either make up, or break up for good…