Welcome to the website of author Cassandra Gold.
BIO
By day, I am a middle school teacher. I spend much of my time grading papers, filling out paperwork, and trying to get 6th- and 7th- graders to read. When I am not at work, I can generally be found at the computer, dreaming up stories about men falling in love. When I have spare time (which is unfortunately not too often anymore!) I read romance of all kinds. Occasionally I pretend to do housework, but my hubby isn't fooled!
HOLIDAY PROMOS
(win great prizes!)
Find me this month at:

Keira Andrews is hosting Make the Yuletide Gay, a great collection of gay-themed holiday books, from November 27-December 22. Look for me to kick off the party, but stay for all the other awesome books–and enter each day to win a copy of the featured book!
Emily Carrington is hosting BDSM for the Holidays, which will feature a new book that is BDSM- and/or m/m-themed each week. Check out my book, and all the others, at www.emilycarrington.com.
Lex Valentine is doing her annual 30 Days of Christmas giveaway at her blog, Sunlight Sucks. This is yet another chance to win tons of great holiday books! Check it out starting December 1.
Current Releases
Strings Attached
BUY LINK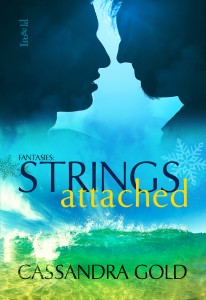 James Hastings is having a bad week. All he wants to do is buy a six-pack and spend an evening moping. Instead, he wins a weeklong trip to Hawaii, thanks to a young man at the liquor store.
Tattoo and piercing artist Travis Barton is surprised when the cute guy he helped out wins a trip and invites him to come along. Still, he's not about to pass up a free trip to Hawaii.
Travis's idea of a no-strings fling goes against James's nature, but it seems like a great way to make the trip even better. Then their hot, uninhibited nights together start to blur into something more, and James starts to imagine Christmas ever after — Travis, with strings attached.
Note:This book is a revised and re-edited version of a book sold elsewhere under the title Fantasies: Christmas.
Fool for Love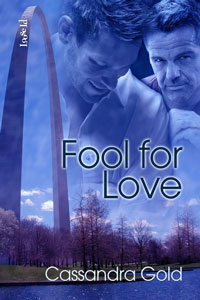 Forty-five-year-old college professor Vincent Norton expects to spend the rest of his life alone. After all, he had more than twenty years with the love of his life before losing him to an accident. Then he has a chance encounter with a young man in the hallway of his apartment building, and Vince is shocked and dismayed to find himself suddenly attracted to a man half his age.
Rob Bridges might be only 21, but he knows what he wants—and that's his sexy older neighbor. Once he realizes he wants Vince, Rob sets his mind on catching him. Too bad Vince doesn't seem to agree that age is just a number. Will Vince let himself be caught, or will his indecision ruin their chance at happiness?
NOTE:This book is a re-edited, revised version of one previously released by another publisher.